Michon Benson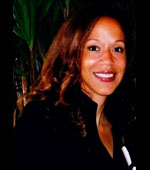 Michon Benson is an Assistant Professor of English and Director of Undergraduate English Majors/Minors at Texas Southern University. A proud graduate of Jack Yates High School and a native of Houston's historic Third Ward community, Michon has been an educator for over 25 years, teaching high-school school English and serving as a middle school principal before returning to TSU in 2014. She has received her undergraduate degree in Studio Art from the University of Texas at Austin, a Master's degree in Rhetoric and Composition from Texas Southern University, and her Ph.D. in African American Literature from Rice University. 
Michon actively engages in community service. Among her on-campus activities, she co-develops programming as a member of the Office of Diversity, Equity, and Inclusion task force; sits on the COLABS Student Enhancement Committee; sponsors student-led organizations, and is a newly-installed member of the Faculty Senate representing the Thomas J. Freeman Honors College. Off-campus, Ms. Benson is an active member of the Hermann Park Rotary Club's education committee, designing African American history curriculum for secondary schools in the state of Texas; and she is a long-standing member on the advisory council of the Community Artists' Collective. 
Ms. Benson's most recent scholarship includes a book review essay in the Journal of the College Language Association, entitled "Pouring Libation: A Review of 'SOS – Calling All Black People: A Black Arts Movement Reader'" (2015); and contributing to, editing, and publishing The Maroon Journal of Arts and Letters (2019), an annual anthology of faculty and student interdisciplinary essays, creative writing, and visual art. Currently, she is working on a novella, Athazagoraphobia, which she anticipates completing in December of this year.